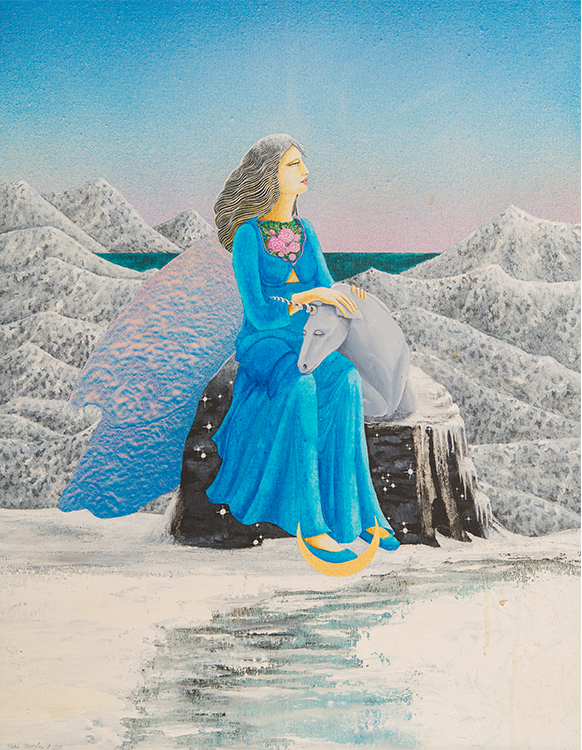 Snow Unicorn
Acrylic on canvas painting by Niki Broyles. With the colors of the northern skies, Snow Unicorn emits the peaceful energy of winter, the final season. A graceful white-haired being cradles a unicorn, seemingly a descendant of the Tarot card The Empress. Niki began painting in the late 1960s, a time when alchemy, mysticism and Eastern spirituality was popularized by the hippie generation in the San Francisco Bay Area. Going by the artist's name Magnolia, she painted the 22 major arcana cards when she was 22.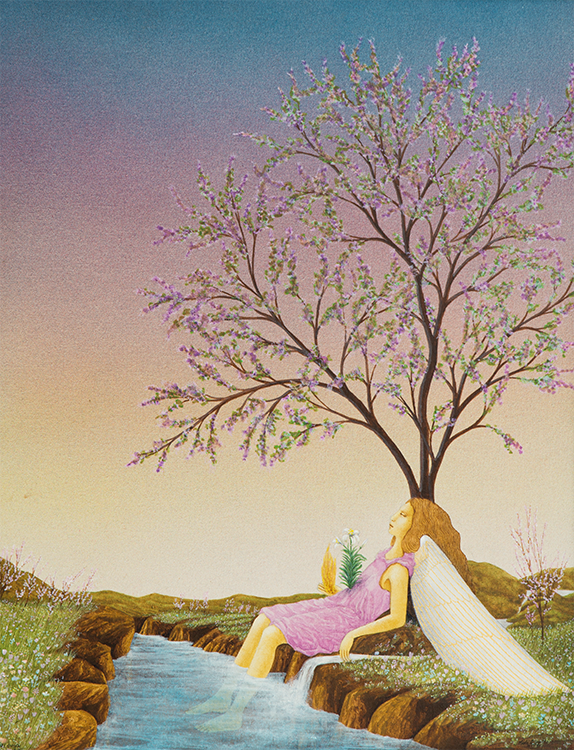 Fire and Water (Angel)
Acrylic on canvas painting by Niki Broyles. Feelings, visual impressions and spiritual ideas were key influences. As my aunt Lorna said, she "used her heart, mind and soul" to create. In a short writing entitled The Circle, Niki describes the importance of accepting our human predicament and letting go: "The recognition of being bound causes surrender which in turn opens the gate". What flowed through the gate and materialized on canvas was she referred to as her "spark of divinity". She felt it while creating and we feel it while immersed in her painted visions of energy auras, otherworldly visitors, androgynous beings and mythological archetypes. (From Book 2, Now It's Frog Tricks)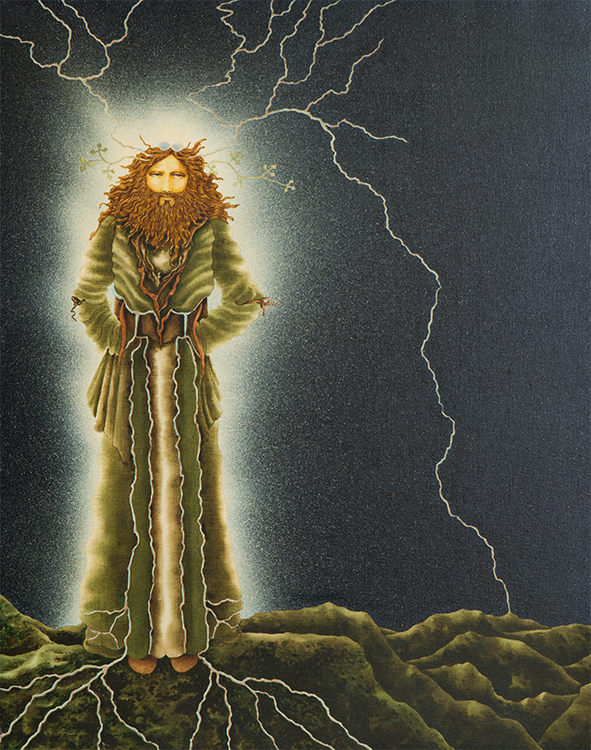 Lightning Man
Acrylic on canvas painting by Niki Broyles. In the 1980s we went to lectures given by Betty Bethards. Here is a quote from her writing called Dare to Be You: "Far too often you see yourselves as small, insignificant beings who are merely going through life reacting to whatever the winds of change bring your way. As you meditate and work with your affirmations, visualizations, and dreams, you begin to see that you're an infinite, unlimited, powerful person….If you don't like the way it's going, you have the power within you to change it at any time."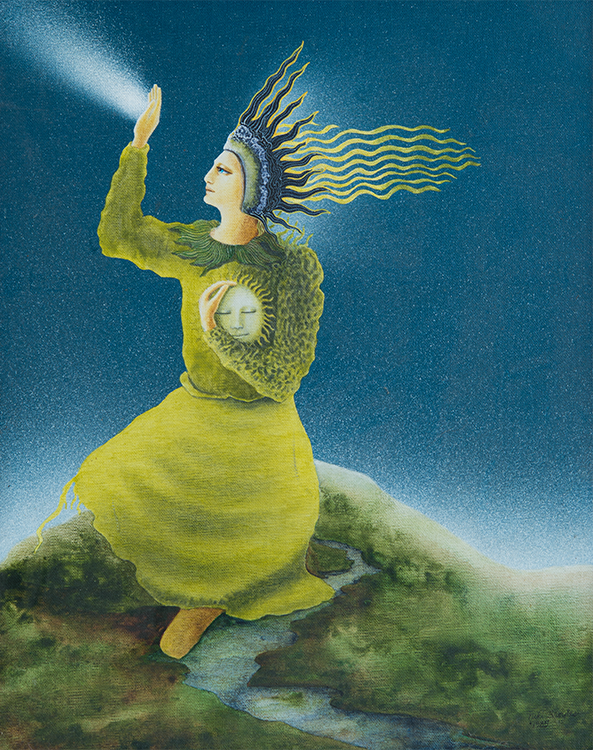 Green Goddess
Acrylic on canvas painting by Niki Broyles. "One line leads to another; one idea flows from the other. I don't know where the thoughts come from but they're real specific. I call them instructions. I feel like I'm a channel. I don't know or try to know what the whole composition will be. Sometimes I don't get it until after I'm done and then it's funny. The instructions just come, one at a time, specifically: make the arm go down tht way. I don't argue or debate the instructions. But sometimes I'll draw something and it won't look right, so I erase. There's lots of erasing. While I have total free will, something other than my waking consciousness is in control. I just concentrate on execution." ~Niki, an interview in the 1980s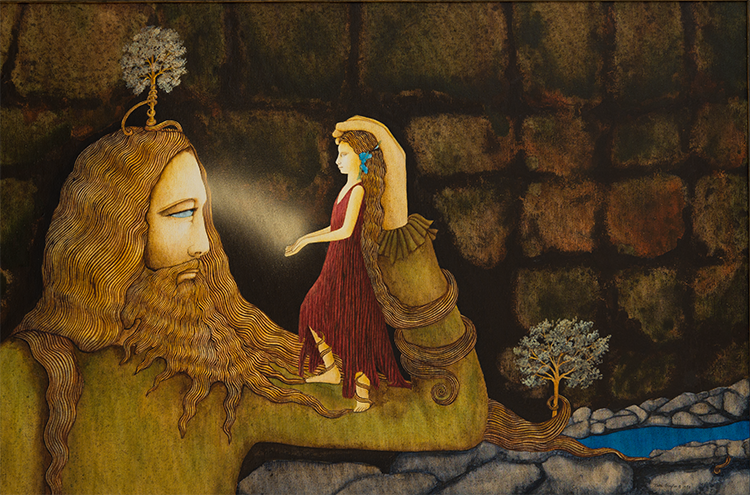 Receiver man
Acrylic on canvas painting by Niki Broyles. In my family, the concept of energy was significant both in our spiritual lives and in my mother's art. I was raised with a mindset that focused on elevating energy in the body, more specifically, the seven chakras of the body and one's energy field, also called the aura. During this time period, Niki painted several works that explored the idea of receiving. She then transitioned into her next artistic period and went on to paint many ethereal vistas and supernatural beings.