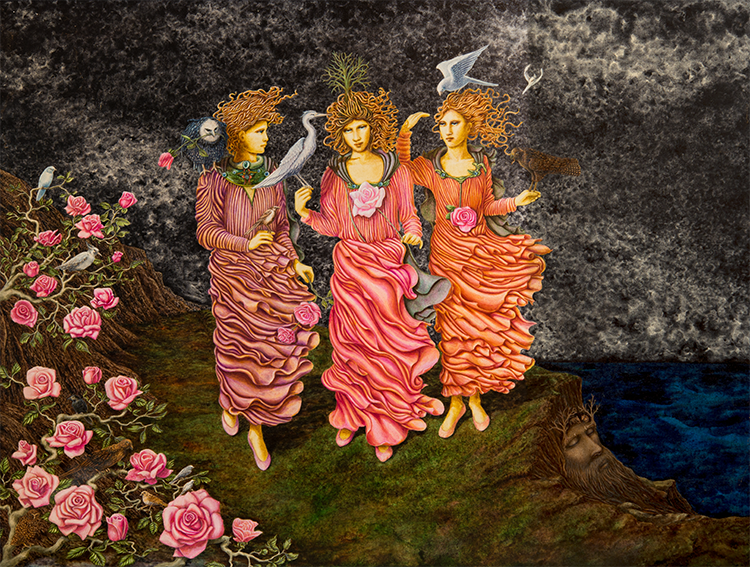 Bird Girls
Letter to Leela, 1986: "I've been working on a pretty big painting for a few weeks now. It's 30"x40". It has 3 girls – full body view – with around 14 birds. No parrots, though. It has a wren, ibis, hawk, owl, and some mutants. First I got pictures of hands, mainly, with the light hitting from the same direction so I'd have something to copy when painting in the shadows. Then I got bolder than normal casting shadows all over the painting. I almost threw it away once. I threatened myself that if I didn't get it right, I'd dump it. And I listened to my own threat. I took heed! It's coming out pretty good and I'll probably see more improvement in future attempts at shadowcasting. Bye now, Love, Niki"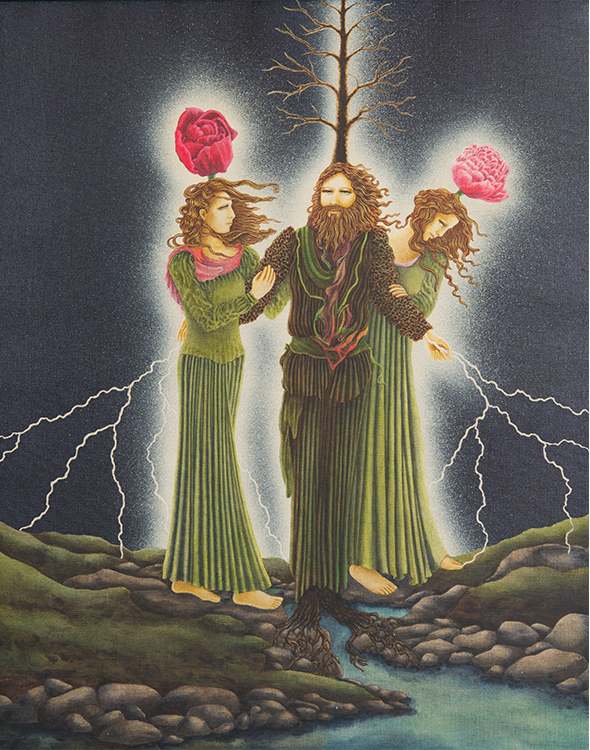 Rose Girls
I wonder if the first line of my mother's writing The Circle is intentionally ironic: "I have no original thoughts." She produced nearly 1,000 paintings, all in a style that is original, unapologetic and recognizably Niki Broyles. As my mom sought to explain her art in words, she had the realization that it reflected the influences of everything she had experienced, observed and read in books. She was perhaps too humble to conclude that her creations were, as are any artist's, also an expression of her unique inner life.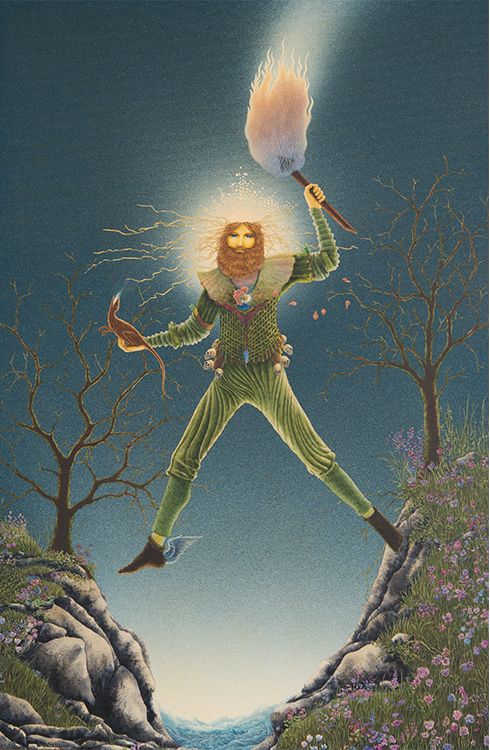 Lizard Girls
We're held in suspense as we bathe in the colors and feel the enigma. While considering the possible signicance of the scene, one might give up, content to enjoy the painting as a visual stimulus. Or, bravely, we might continue to push ourselves to gain insight by analyzing the symbols, archetypes, and inherent message of her work. Here, perhaps, another thread in the tapestry: a lizard's nature energy informs fairytale beasts, a Celtic ritual of life and death, a gathering of tribes. Fire, skulls, feather, petals. Gentle strenth, peaceful acceptance. Surrender to the circle.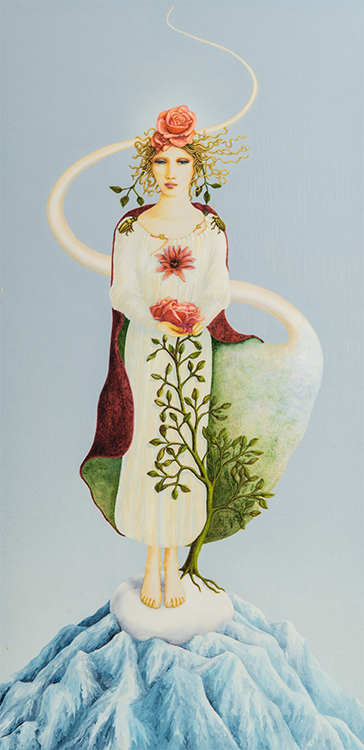 The Egg
The Egg, 1986, 30×24″ acrylic on canvas. A visionary, unreal beauty evokes Aphrodite or Venus, placing her in the pantheon of goddesses. A pure white, torn vestment is decorated with gold bits and doesn't attempt authenticity. This peak isn't icy. It hints at warm islands with rocky grey crags and pure, clear skies. Are these Cretan blooms? Egyptian scarabs? A provocative cape is the color of seashells. If the bush resembles myrtle or olive, more reason to believe this surreal masterpiece was inspired by memory.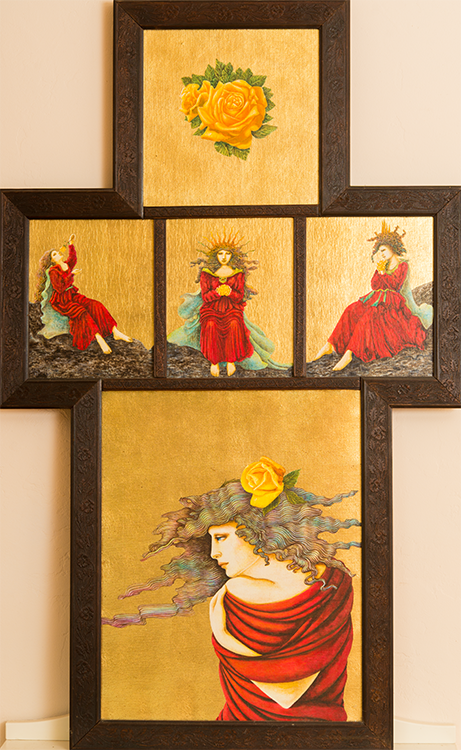 The Girls
Acrylic on canvas painting by Niki Broyles. Niki had a collection of art books on the European masters such as Rembrandt, Rafael, Vermeer, Da Vinci and Michaelangelo. Most of the faces in her pantings are beaufiul and peaceful like Rennaisance paintings, and she was influenced at an early age by the art she saw in Europe, in the museums and churches. In later years she was also drawn to the pre-Raphaelites (Waterhouse, Rossetti) and the Symbolists (Klimt). She didn't follow abstract trends in modern art, instead forging her own path or "branch" of art that she created independently, and without care for what anyone thought of it.