The Rose with Roots
Acrylic on canvas painting by Niki Broyles. Niki began painting in the late 1960s and was self-taught. After being rejected for a scholarship to art school, she walked her own path, free of others opinions or requirements. She painted for herself, for the pure joy of it, and took inspiration from the traditional figurative work of the European masters. This piece is a reflection of her respect for aesthetic beauty, layered with metaphysical motifs and the emotional power she created by literally connecting everything in the painting using her fluid illustrative process.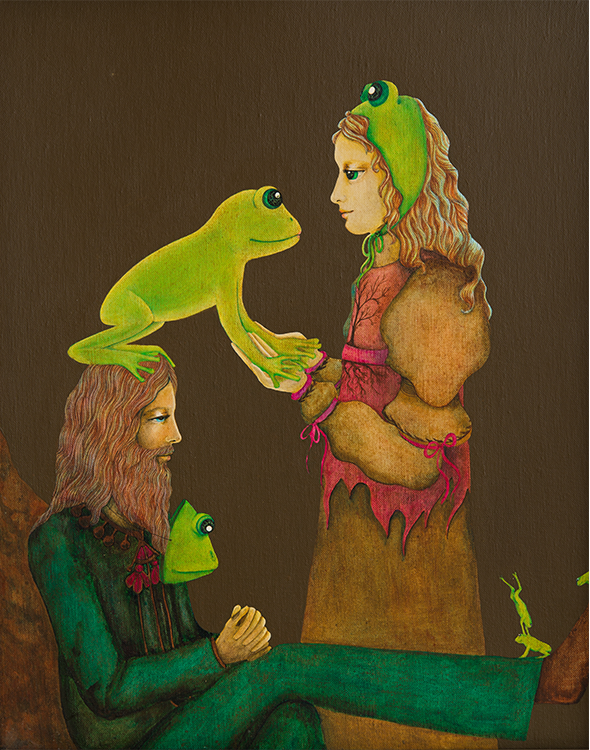 Now It's Frog Tricks
Niki had a carefree, child-like playfulness. From a conversation with my mom's friend Leela in 2019: "I was happy to just be in the room with her while she painted. She was constantly thinking outside the box. We just played and played and there was nothing that was off limits. She came out of a place that was unstructured and she just painted out of feelings and the mental constructs were channeled as an image. She portrays things that are important to her and what she feels about that person." (From Book 2, Now It's Frog Tricks)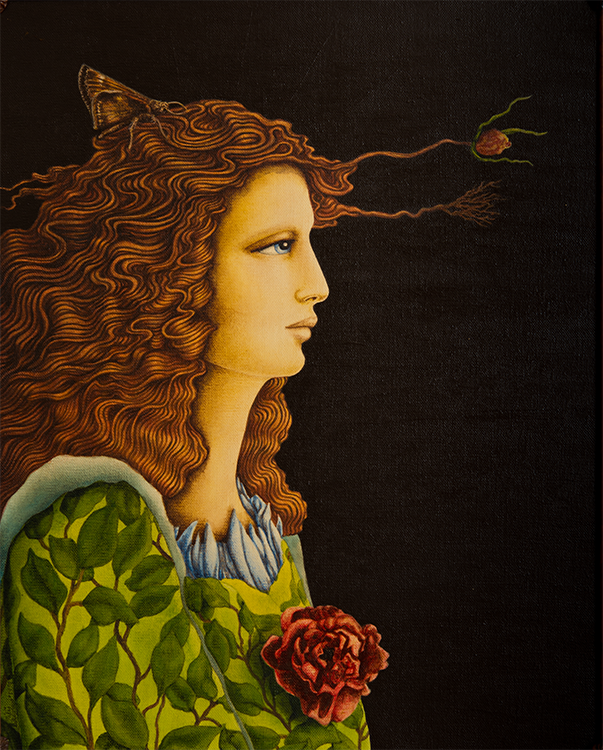 Lady in Green
"The wise man sees more from one small window than the fool who travels the world." -Arab poet. Niki: That quote is not meant to announce that I am wise, but that people tend to view me as a recluse perched atop a ridge of the Oakland hills, painting. But that's not true. I lead an ordinary life. I'm a woman, clown, wife, lunch-maker, mother, organizer of antic birthday parties, friend, citizen, sister, ceramist, housemaid, sculptor, vegetarian, seamstress, smoker, seeker after spiritual harmony, gardener, and painter. ~Interview, 1980s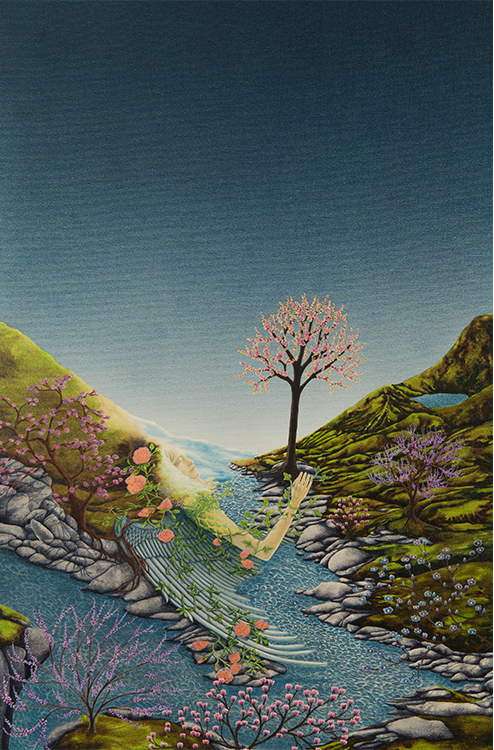 Earth Spirit
Acrylic on canvas painting by Niki Broyles. The paintings awaken the ability to feel an unseen, energetic connection with nature: ocean, sun, moon, sky, mountains, land, creeks, rocks, rainbows, rain, storms, lightning, trees, waterfalls, wind, fire, flowers, birds, horses, cats, dogs, humans, planets, the cosmos. Through multiple expressions of connection, the artwork effuses a vibe of universal love, or bliss; a state of consciousness that one can also achieve in meditation by saying Om.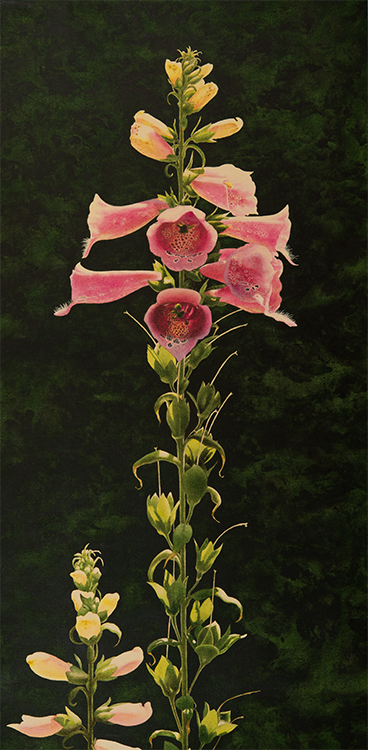 Snapdragon
Acrylic on canvas painting by Niki Broyles. Niki: "The objects in my paintings seem to reflect what I'm interested in at the time. The flowers came from my involvement in the garden and photography which enabled me to study them closely in different media….The painting is finished when I know I can't make any improvement. I know the limits of my technique. When I get near the end I analyze it to see if I can show something in a better way, then I do what I know I can pull off." ~Interview,1980s